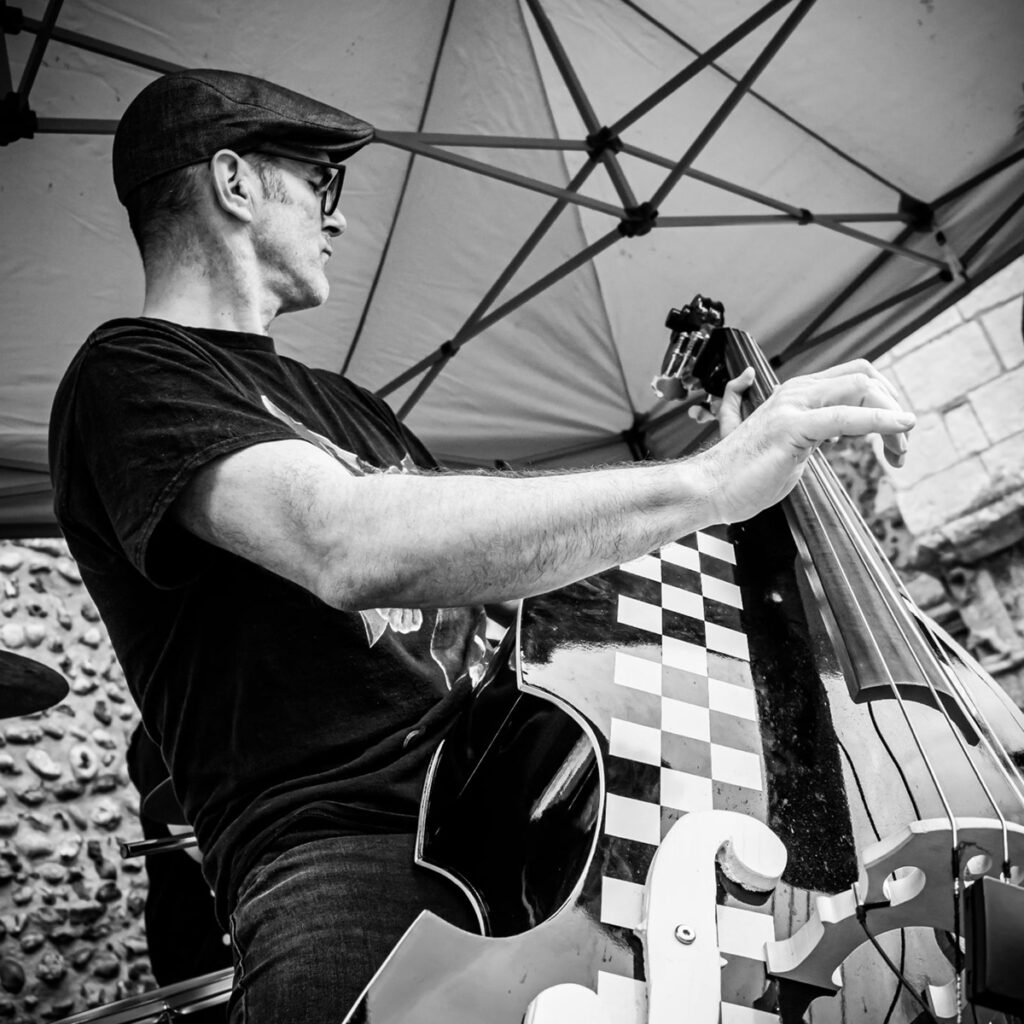 Wayne has been performing in a variety of bands playing a variety of styles on a variety of instruments over the last 30+ years. He has recorded 8 commercially released albums with "Shock Therapy" (1), "The Ugly Dog Skiffle Combo" (2), Dawg House (3), V8 Rumble (1) and Big Black Cadillac (1) and appeared on over 30 compilation albums. Wayne started playing in local rock 'n' roll bands in 1984 and has never stopped.
As well a performing in bands, Wayne has also become well known on the rock 'n' roll and rockabilly scene for producing covers for rockabilly, psychobilly, rock 'n' roll, hillbilly and punks bands for many record labels since 1994. Labels like "Western Star Recording Company", "Raucous Records", "Nervous Records", "Foot Tapping Records", "Fury Records", "Lone Rider Records", "Trophy Records", "Bone Tone" and "Cherry Red". Producing covers for Vinyl, CD, Video, DVD and some cool books including work for artists such as Matchbox, Shakin' Stevens & The Sunsets, The Meteors, The Sharks, Crazy Cavan & The Rhythm Rockers, The Long Tall Texans, Demented Are Go, John Leyton, Chas Hodges, The Pirates, Frenzy, Vince Eager, Jack Rabbit Slim and many others, over 400 so far!
What Wayne has been doing over the last 30+ years ….
King Dinosaur (rockabilly) – double bass
Big Black Cadillac (rockabilly) – double bass
Hogwash Junction (jazz) – double bass
Country Cats (country) – double bass
Dawg House (rockabilly) – guitar
Shock Therapy (psychobilly) – drums / guitar
Rhythm Boys (rockabilly)
Just Jazz (jazz) – double bass
The Zodiacs (rockabilly)
The Bone Shakers (psychobilly) – double bass
The Sundance Cats (rockabilly) – drums
The Crestas (rockabilly) – drums
The Streamlines (rockabilly) – drums
Buntline Special (country) – guitar
Johnny Jump (skiffle) – double bass
Pete Kiwi (skiffle) – double bass / guitar
The Fretz (rockabilly) – drums
Roswell Invaders (psychobilly) – drums
Wayne Beauchamp performing in rockabilly band "King Dinosaur"